I first fell in love with Bad Bunny (aka Benito Antonio Martínez Ocasio) while watching his 2018 music video "Cuál Es Tu Plan." (In English, that means "what is your plan.") In the video, the Puerto Rican Latin trap rapper, who has shot to fame over the past year, wiggles his hips around a small grocery store in Tommy Hilfiger overalls sans a shirt, his fleshy arms waving to the happy beat. He accessorizes the adorable outfit with furry, bubblegum pink earphones shaped like rabbit heads, which he wears on top of his buzz cut. He sports a pair of tiny Roberi & Fraud sunglasses that are frameless, pointy, and come in a sweet candy red hue. I don't understand Spanish, but when he raps in that rumbling baritone, I feel like I understand him, or rather, I'm drawn to him. He's electric, perpetually smiling, his tongue always out, curled, and wagging. He seems so happy with himself, so plushy, confident, and even sexy—all in a pair of doofy overalls.
Overalls are the Bad Bunny signature I enjoy the most. He wore a pair with an X-crossed back with a red bucket hat alongside veteran Latino rapper Daddy Yankee in the music video "Como Soy." (There, he files his nails as he bops around a basketball court.) You can't pry those overalls off of his gyrating body. It is one fashion quirk that he stays true to. In fact, in the recently released music video "Mia," with Drake, Bad Bunny donned a pair of Beetlejuice-style yellow and black striped overalls—24-year-old baby fat and all—and stole the show.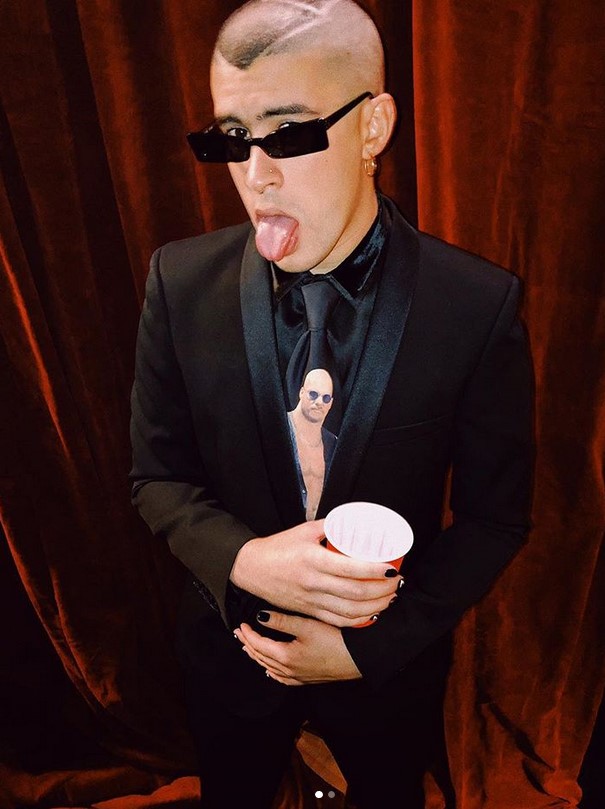 His style, with its healthy punch of dork factor, is of the now in a way that is similar to Post Malone's very self-aware, disheveled, sleazy look. Take the music video "Estamos Bien," where Bad Bunny fearlessly wears high-waist shorts (denim!) with a dad belt, pulled-up sports socks, and a camp shirt. (In this look, he holds the leash of a ferocious, chunky-faced pitbull who wears sunglasses.) Bad Bunny seamlessly sells the short shorts look as well. He really knows how to wiggle those knobby knees in a pair of shiny citrine basketball shorts. Trust me and watch "Como Soy" again for the full effect.
The rapper also takes on the red carpet in his wonderfully weird way. At the American Music Awards, he sported a flame-engulfed skull shirt by SSS World Corp with a third eye pasted to his forehead. He told the presenter that it "was a powerful eye to see everything." He wore the accessory so well, it seemed almost natural. Another standout outfit featured Bad Bunny's love of wrestling. In mid-November, he attended the Latin Grammy Awards in a polished black tuxedo, those itty-bitty square sunglasses, and a black tie with the image of hulking wrestler Stone Cold Steve Austin emblazoned on it. It was purchased from the @Wrestling4Sale Instagram, an account that deals vintage wrestling clothing. Call it a sassy slice of spunk to an otherwise standard getup.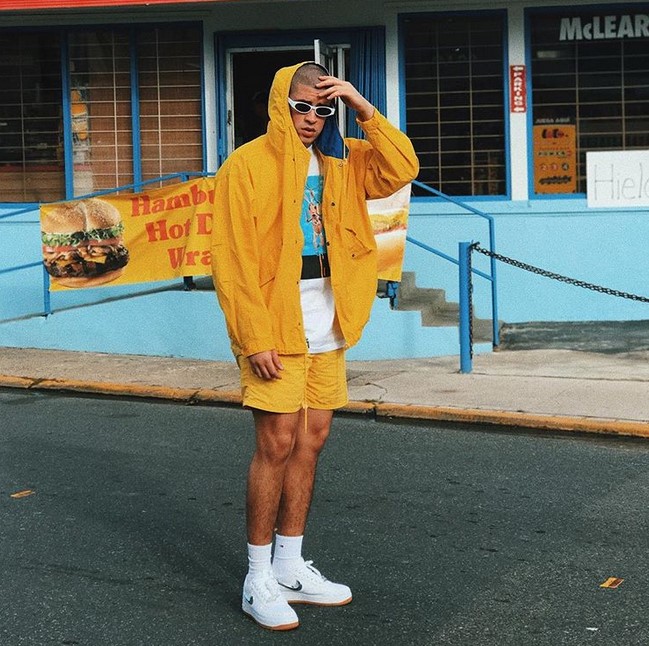 While Bad Bunny has a look that is putting him on the map, it isn't to say he doesn't love a good hype item, whether that is a Balenciaga dad shoe or a Louis Vuitton x Supreme pair of pants. He wears lots of logo-slathered Gucci. In the music video for "Original," he even shows off a whole rack of it! More recently in his video with Jennifer Lopez, "Te Guste," he wears an anime-print graphic silk shirt by the Italian house, but he always makes what he wears his own, typically by adding something along the lines of a dainty dangling earring. A delicate touch like that is endearingly geeky but most of all smart, especially as he sings with such a murderously gruff vibrato. In fact, it is a juxtaposition that highlights his unbridled confidence. Oh, wait, did I forget to mention that he paints his nails, too? What's more to love?
Photos: Instagram
Original article: https://www.vogue.com/article/bad-bunny-style-overalls-sunglasses-gucci