Topped by the additions of champions Beholder and Tepin , chosen in their first year of eligibility, eight new members have been elected to the National Museum of Racing and Hall of Fame class of 2022. Other inductees include racehorses Hillsdale and Royal Heroine and trainer Oscar White via the Historic Review Committee, and Pillars of the Turf selections James Cox Brady, Marshall Cassidy, and James Ben Ali Haggin.
The class of 2022 will be enshrined Aug. 5 at the Fasig-Tipton sales pavilion in Saratoga Springs, N.Y., at 10:30 a.m. ET. The ceremony will be broadcast live on the Museum's website. The event is open to the public and free to attend.
Beholder (Henny Hughes —Leslie's Lady , by Tricky Creek) compiled a record of 18-6-0 from 26 starts and earnings of $6,156,600 while racing from 2012 through 2016. A winner of four Eclipse Awards and three Breeders' Cup races, Beholder was bred in Kentucky by Clarkland Farm. Purchased by Spendthrift Farm at the 2011 Keeneland September Yearling Sale for $180,000, Beholder was trained by Hall of Famer Richard Mandella.
Voted the Eclipse Award for champion 2-year-old filly (2012), champion 3-year-old filly (2013), and champion older dirt female (2015 and 2016), Beholder won the 2012 Grey Goose Breeders' Cup Juvenile Fillies (G1) and two editions of the Breeders' Cup Distaff (G1) (2013, 2016), including a sensational victory over champion Songbird  by a nose in the 2016 Distaff in her final start.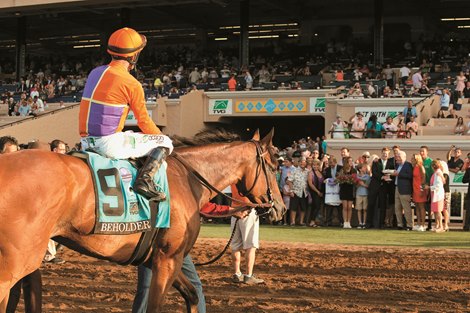 "It's hard to put into words, the amazing journey Beholder took us on," said Spendthrift Farm general manager Ned Toffey. "She will be Spendthrift's first horse inducted into the Hall of Fame, and what a ride she took us on.
"Richard did such a wonderful job with her, getting her to relax early on and developing her ability. At first we thought she was a very nice filly, but every race and year we began to realize this was a once in a lifetime type of horse."
Beholder is one of only two horses (Hall of Famer Goldikova is the other) with three Breeders' Cup victories. Overall, Beholder won 13 graded stakes (11 grade 1s), including a victory against males in the 2015 $1 Million TVG Pacific Classic (G1).
"For me, the most memorable of her races will always be the Pacific Classic. When she made her move on the far turn, I jumped up out of my chair; at that point she went from being a heck of a filly to something very special," Toffey added. "I was so glad (late Spendthrift founder) Mr. (B. Wayne) Hughes was able to enjoy her and came to appreciate how special she was. To have a filly that has accomplished all that she has is hard to put into words; it has been special for everyone at Spendthrift Farm and for those associated with her."
Beholder is the only horse since 1976 to win at least one grade 1 every year from ages 2 through 6.
"What a great honor it is to train a horse like Beholder," said Mandella, who plans to attend her induction ceremony with his wife, Randi. "It was an experience only a few trainers have ever experienced, because there are very few horses that will ever be as good as she was. She overcame my training several times."
Tepin (Bernstein—Life Happened , by Stravinsky) posted a record of 13-5-1 from 23 starts with earnings of $4,437,918 in her career from 2013 through 2016. The Eclipse Award winner for champion turf female in 2015 and 2016, Tepin was bred in Kentucky by Machmer Hall and purchased by Robert Masterson at the Fasig-Tipton 2012 Saratoga Select Yearling Sale for $140,000. She was trained by Hall of Famer Mark Casse.
"I think making it the first time she was on the ballot is just outstanding," Masterson said. "The thing that sticks out for me is her winning three grade 1 or group 1 races in three different countries, including against the boys."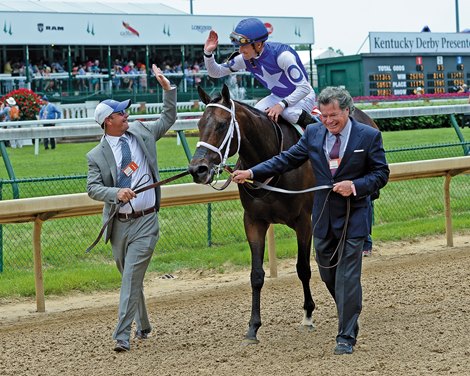 During her first championship season in 2015, Tepin won four graded stakes, including the Breeders' Cup Mile (G1T) against a predominantly male field. She repeated as champion turf female the following year on the strength of a campaign that included top-level wins in the Coolmore Jenny Wiley Stakes (G1T) and Ricoh Woodbine Mile (G1T) and a memorable score in the Queen Anne Stakes (G1) at Royal Ascot in England. Tepin defeated males in both the Woodbine Mile and Queen Anne. She won a total of 11 graded/group stakes victories and won at seven different tracks. 
"She just got so good," Casse said. "I've been doing this for a long time and I would say maybe 10 times in my training career I've sat there with my mouth wide open and said, 'Holy smokes, what was that?" I think she accounted for three of those."
Casse said one of the joys of training Tepin was that he got to experience her alongside his son, Norm, then his assistant and now a trainer.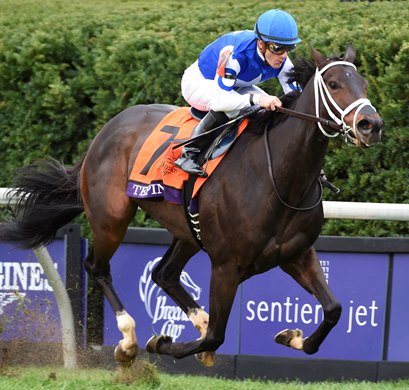 "Another thing that makes Tepin going into the Hall of Fame really special is obviously to win for Mr. Masterson, but also it was kind of something Norman and I did together," Casse said. "Shortly after, Norman went on his own and so this was something that was just amazing and we can remember together."
Hillsdale (Take Away—Johann, by Johnstown) is the first horse bred in Indiana to be elected to the Hall of Fame. Foaled at Helen Kellogg's Murlogg Farm near Evansville, Hillsdale raced from 1957 through 1959, finishing his career with a record of 23-6-4 from 41 starts and earnings of $646,935 (13th all-time at the time of his retirement). Initially trained by Odie Clelland for Kellogg, Hillsdale was purchased privately following his juvenile campaign by Clarence W. Smith, who engaged Martin L. Fallon Jr., to train. As a 3-year-old, Hillsdale won five stakes races: the Boardwalk Handicap, El Dorado Handicap, Michigan Derby, Malibu, and Will Rogers.
Hillsdale's best season came as a 4-year-old in 1959, as he won 10 of 13 starts and earned $502,090, which topped the older horse division. He won 10 stakes that year, including seven in a row, and finished second in the other three. Among the stakes Hillsdale won were the San Carlos Handicap, San Fernando, Santa Anita Maturity, Los Angeles Handicap, Californian, Argonaut Handicap, American Handicap, Hollywood Gold Cup Handicap, and Aqueduct Handicap. Along the way he defeated the likes of Hall of Famer Round Table and champions Bald Eagle and Jewel's Reward. Hillsdale won a total of 16 stakes at 11 different tracks.
Royal Heroine (Lypheor—My Sierra Leone, by Relko) was bred in Ireland by Larry Ryan and raced for owner Robert Sangster from 1982 through 1984 in England, France, and the United States. Voted the Eclipse Award for champion female turf horse in 1984, Royal Heroine concluded her career with a record of 10-4-2 from 21 starts and earnings of $1,229,449. She was trained by Sir Michael Stoute in Europe and John Gosden in America.
Royal Heroine raced 11 times in Europe prior to arriving in America, notably winning the Princess Margaret Stakes at Ascot, the Child Stakes (G3) at Newmarket, and the Prix de l'Opera (G2) at Longchamp. In her second start in the United States, Royal Heroine defeated males in a division of the 1983 Hollywood Derby (G1T), including four-time grade 1 winner Interco. Royal Heroine suffered an injury in her next start, the 1984 Santa Ana Handicap (G1T), but returned to the races three months later and won back-to-back graded stakes at Hollywood Park, the Inglewood Handicap (G3T) (vs. males), and the Beverly Hills Handicap (G2T). In her second start after the Beverly Hills Handicap, Royal Heroine finished second to Hall of Famer John Henry in the Budweiser Million (G1T).
Continuing to show her affinity for Hollywood Park, Royal Heroine won the inaugural Breeders' Cup Mile (G1T) in 1984, defeating nine males in setting a North American record for a mile on turf (1:32 3/5). Two weeks after the Breeders' Cup, Royal Heroine won the Matriarch Stakes (G1T) to conclude her career. Overall, she won eight stakes, seven of which were graded or group, including three grade 1s.
Oscar White (1908-83), a native of Pittsville, Md., won 706 races—including 104 stakes—with purse earnings of $5.5 million in a career that spanned from 1940 through 1978. Training exclusively for Walter Jeffords Sr., then later other members of the Jeffords family, White won the Belmont Stakes in 1945 with Pavot and in 1952 with Horse of the Year One Count. White won 12 stakes with Pavot—the 2-year-old champion male of 1944—including the Futurity, Grand Union Hotel, Hopeful, Jockey Club Gold Cup, Saratoga Special, and United States Hotel. One Count's victories included the Jockey Club Gold Cup and Travers, one of White's three victories in the latter. White also trained the 1951 champion 3-year-old filly, Kiss Me Kate, one of his three winners in both the Alabama and Delaware Oaks. Overall, White trained 35 stakes-winning horses.
Other top horses trained by White included multiple stakes winners Ace Card, Adile, Loyal Legion, Natchez, Piano Jim, Portsmouth, Post Card, Singing Rain, Snow Goose, and Try Me Now, among others. White won the Maryland Handicap three times; the Delaware Handicap, Empire City Gold Cup, Gazelle Stakes, Jersey Derby, Laurel Handicap, and Saratoga Special twice each; and he earned victories in the Jerome, Manhattan, Maskette, Saratoga Cup, and Whitney, among others. White died in 1983 at the age of 74 in Salisbury, Md.
James Cox Brady (1907-71), a native of West End, N.J., served as chairman of the New York Racing Association for eight years during the 1960s, a period in which NYRA opened a revitalized Belmont Park and significantly refurbished Saratoga Race Course. A Yale graduate, Brady arrived on the racing scene as an owner in 1939 with the first of his many stakes winners, champion War Plumage, winner of the Coaching Club American Oaks and Alabama Stakes. Brady then served in the South Pacific during World War II as a Navy commander, earning six battle stars and the Bronze Star.
Following the war, Brady took an increased interest in racing and served the sport through leadership roles with The Jockey Club (becoming a steward and vice chairman) and the Thoroughbred Racing Associations. He also became a trustee of the National Museum of Racing and Hall of Fame and a founding director of the Monmouth Park Jockey Club. When the Greater New York Racing Association was formed in 1954, Brady was one of the original directors. In 1961, when the organization was known simply as NYRA, Brady was elected chairman. Among the projects he spearheaded was the $30 million revitalization of Belmont.
Brady had considerable success as a breeder and owner. Along with War Plumage, Brady campaigned Casemate (winner of the Metropolitan Handicap among other stakes), Secret Meeting (winner of the Acorn Stakes), Landlocked (winner of the Widener Handicap), Artismo (winner of the Hopeful Stakes), and Upswept (winner of the Comely Stakes), among others. He also had success overseas, winning the Epsom Oaks with Long Look and the Irish Cambridgeshire Handicap with Hibernian. From 1938 through 1970, Brady's horses won 234 races with purse earnings of $2,042,437. Brady was the Thoroughbred Club of America's Honored Guest in 1970. He died the following year at age 63 in Summit, N.J.
Marshall Cassidy (1892-1968) was born in Washington, D.C., and grew up exercising both flat runners and steeplechasers. He went on to ride in amateur races in New York, Maryland, and Mexico. Son of Mars Cassidy, a starter in New York for a quarter-century, Cassidy is credited with a number of innovations that benefited racing, including devising the modern stall-style starting gate and perfecting the photo-finish camera system. He later became director of racing for the New York Racing Association from 1963 through 1968 and served as executive secretary of The Jockey Club.
In 60 years in the sport, Cassidy also served as a hotwalker, groom, blacksmith, patrol judge, and steward. He was honored by the Horsemen's Benevolent and Protective Association at its 1955 national convention for his contributions to racing. Along with the starting gate and the photo-finish camera, some of Cassidy's other significant contributions to the sport included inventing the electric timer; developing the film patrol for stewards to evaluate inquiries and foul claims; introducing saliva testing of horses and pre-race veterinary exams; starting The Jockey Club's school for race officials; and founding The Jockey Club Round Table Conference, held each August at Saratoga for racing leaders to exchange views on matters pertaining to racing and breeding. Cassidy was the Thoroughbred Club of America's Honored Guest in 1957. He died in 1968 at the age of 76 in Glen Cove, N.Y. Cassidy's grandson, also named Marshall Cassidy, became a renowned track announcer and racing official.
James Ben Ali Haggin (1822-1914) was born in Harrodsburg, Ky., and made a fortune in California in the aftermath of the Gold Rush. An attorney and rancher by trade, Haggin invested in a mining company that developed into one of the largest in the world and included operations in California, Montana, Nevada, South Dakota, and Utah. It was estimated that Haggin and his partners controlled 80% of the world's copper supply at one time. By 1907, it was reported that the only men in the country wealthier than Haggin were John D. Rockefeller and Andrew Carnegie.
In 1873, Haggin established a Thoroughbred breeding center on Rancho del Paso near Sacramento. By the 1880s, the ranch was known as the world's largest Thoroughbred nursery and Haggin was campaigning several prominent racers, including future Hall of Fame members Firenze and Salvator. Both horses surpassed $100,000 in career earnings, an extraordinary sum for the time. Firenze won 47 races and was in the money 77 times in 82 career starts. Salvator, meanwhile, won 16 of 19 career starts and is retrospectively regarded as the Horse of the Year for 1889 and 1890.
Haggin raced primarily on the West Coast until the mid-1880s when he established a stable in New York. In 1885, Haggin won the Belmont Stakes with Tyrant and the following year won the Kentucky Derby with Ben Ali (named for his son). In 1897, Haggin began to concentrate the bulk of his breeding operation in Kentucky with the acquisition of Elmendorf Farm. Haggin expanded the property significantly with purchases of surrounding parcels of land and at one point owned more than 8,700 acres in Central Kentucky. He purchased many quality broodmares in America, including future Hall of Famer Miss Woodford, and also imported stallions and mares from England, Ireland, and Australia. The top horses Haggin bred included Africander, Sir Walter, Tournament, Tradition, and Waterboy. It was reported that Haggin owned 562 broodmares in 1903 and at times had more than 1,000 horses at Elmendorf. Haggin significantly reduced his racing stable in the 1890s to focus on his breeding interests, but he won the Travers in 1903 with the filly Ada Nay. Haggin died in 1914 at the age of 91 in Newport, R.I.
Original article: Champions Beholder, Tepin Lead 2022 Hall of Fame Class – BloodHorse