In this article we will delve into the topic of why you shouldn't feel bad for wanting to dress your baby in the best clothes and drive them in strollers from top end stores, and why it might be a good idea (if you have the funds for it) that doesn't necesarily have to reek of snobizm.
Some people may think it ridicolous to buy a baby pacifier for $17000 or a Young Versace Stroller that the baby won't even realize that he is in, some will say it is the mother fullfilling her snobbish needs and not the babies.
Is it true? Maybe. Should you feel bad for it? Absolutely not!
If you can afford a Gucci carrier there is nothing wrong with wanting to buy it, it is making you feel better as a mother, and, in an extension, your baby feels too. A happy mother is one of the greatest influences a child can ask for.
I can't afford a $17000 pacifier, but I definitely wouldn't mind having it. And I find it hard to believe when mothers say "I wouldn't want it even if I could" Can she live without it? Yes. Would she return it if she received it? I highly doubt it! If someone is finding comfort in buying such expensive items for their little loved ones let them, do not criticize as it is their choice and there is no crime in it. After all, every one of those items were created with us as mother's first and foremost. whether its the Fendi stroller or a Graco stroller, we should be happy and accept who we are and what makes us happy. And it doesn't make us a better or worse person, just different. It doesn't matter if our neighbour is pushing a Maclaren stroller with nine-karat gold accents , and we are pushing a regular one, as persons we are one and the same.
Concluding I do not mind seeing fancy mothers on the streets with their fancy strollers, carriers etc. I do not think about why they wanted it or why they bought it. Ask yourself why you might like Mercedes or Maserati's more than Kia's or Fiat's. Probably for the exact same reason they like their Young Versace Stroller!
I believe that I am not alone in my way of thinking, for example:
Kariz Favis, editor-in-chief of Baby Couture magazine, which focuses on high-end fashion for children says that  the reason that expensive baby gear is sometimes looked down upon is largely due to celebrities and their purchases, who have certainly fueled the current rage for over-the-top kinder loot.
"I think it's largely attributable to the better and wider choices that are available in children's fashion and gear," says Favis. "When celebrity parents bought these items, their validation opened up a whole new market for high-end baby gear."
Star tracks
So while not everyone will be springing for a white Hermes Birkin bag (which can cost an upward of $20,000) to store bottles and wipes (like model Kate Moss famously did after the birth of her daughter Lila Grace in 2002), you might see some posh moms with Goyard's made-to-order diaper bag, which can cost in the area of $3,000.
Other popular baby brands include Maclaren, the British company known for its prams — including a $4,000 limited edition leather stroller with nine-karat gold accents — and luxury fashion house Gucci, which produces everything from baby blankets to carriers, all with the signature GG print. Dior makes baby booties.
Expensive, no doubt. As such, says Milton Pedraza, CEO of the Luxury Institute, a New York City research firm that evaluates the purchasing power of high-net worth individuals, these purchases aren't made on a whim.
"There's no question that wealthy baby boomers take as much time to research and buy luxury baby gear as they do automobiles," he says. "Superior quality is a requirement of a luxury good, and that's a major driver. But once you get past the functional benefit, it really is about having the equivalent of Ferraris and Maseratis for your kids."
Happy habit?
However, high-end kinder candy might be less about showing off to your friends and more about lifting your spirits.
Postpartum purchases make moms feel good. "Buying a nice diaper bag or personalized pacifie, makes moms who aren't feeling 100 percent … focus on something more positive."
Others say it has to do more with owning something completely original — or at least highly coveted. "Parents love to be able to make their child's belonging's unique," says Soudry. "There's definitely a craze for personalization."even for extreme spenders, it still comes down to the well-being of baby.
Below we present some of the most extravagant  baby products.
Gwen Stefani with Gucci Monogram Baby Carrier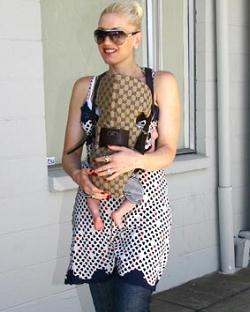 Gwen pulls off the Gucci baby carrier magnificently, she looks so effortlessly chic, per usual. in her Gucci Baby Carrier. Gwen pulls off the Gucci baby carrier magnificently, she looks so effortlessly chic, per usual.

The Roddler, $4,500. This hand-built stroller is certain to give you a smooth ride along Rodeo Drive.
Jaguar XK 6v Toy Car, $449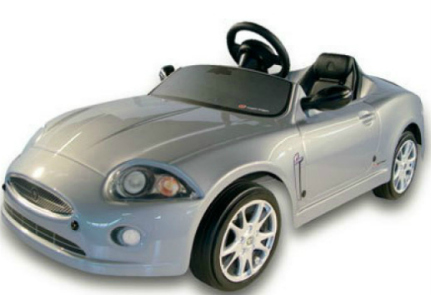 Gucci baby carrier, $795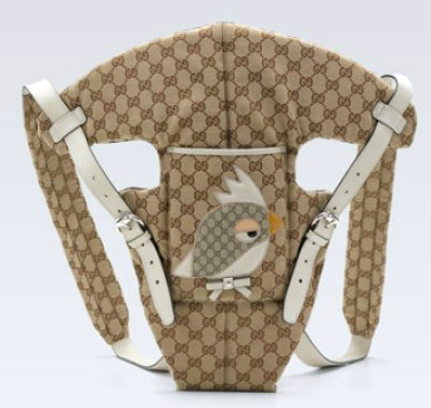 Carry your baby around in style!
Diamond Pacifier (3 carats) $17,000
3ct diamond pacifier, $17,000. This crystal-studded binkie is all bling with 278 diamonds set in fine European white gold. Outrageous of fabulous?
"Diamond" baby bathtub, $3,800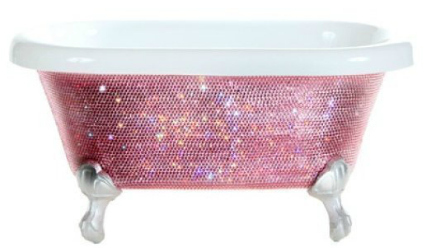 Swarovski diamond baby bathtub, $3,800. Pamper your precious bundle of joy in a bathtub fit for royalty. Each bathtub is a work of art and each crystal is applied by hand. thediamondbathtub.com
Tiffany & Co. Sterling Silver Ducky Bank, $975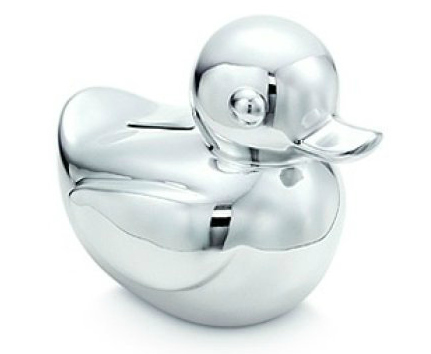 Tiffany with their new top quality "piggy (ducky) bank" design.